Visit the capital of Cambodia Pnom Phen and discover the ins and outs of this bustling new Asian city.
Tread lightly upon the 5000 silver floor tiles at the Silver Pagoda, in the Royal Palace
Step back in time at the National Museum, home to the world's finest collection of Angkorian sculpture
Check out the Art Deco masterpiece that Psar Thmei, Phnom Penh's central market
Discover a darker side at Toul Sleng Museum, a brutal reminder of the pain of Cambodia's past
Wat Phnom – on a leafy hill, Wat Phnom affords a view that has changed little in a half century
Mekong Boat trips – Cruise the river as the sun sinks behind the spires of the Royal Palace
Cyclo rides – Enjoy an unhurried spin through the old French quarter
Russian Market – Bargain for fine silks, antiques and curious at Phnom Penh's most enjoyable market
Soak up the city by night, with a happy hour cocktail, a fine meal and crawl through the city's bars
Go to Phnom Penh
Arrive Phnom Penh by afternoon, Phnom Penh – the city retains its traditional Khmer and colonial charm. French villas along tree-lined boulevards remind the visitor that the city was once considered the gem of Southeast Asia. Recent political changes have triggered an economic boom of sorts, with new hotels, restaurants, bars and nightclubs springing up around the city.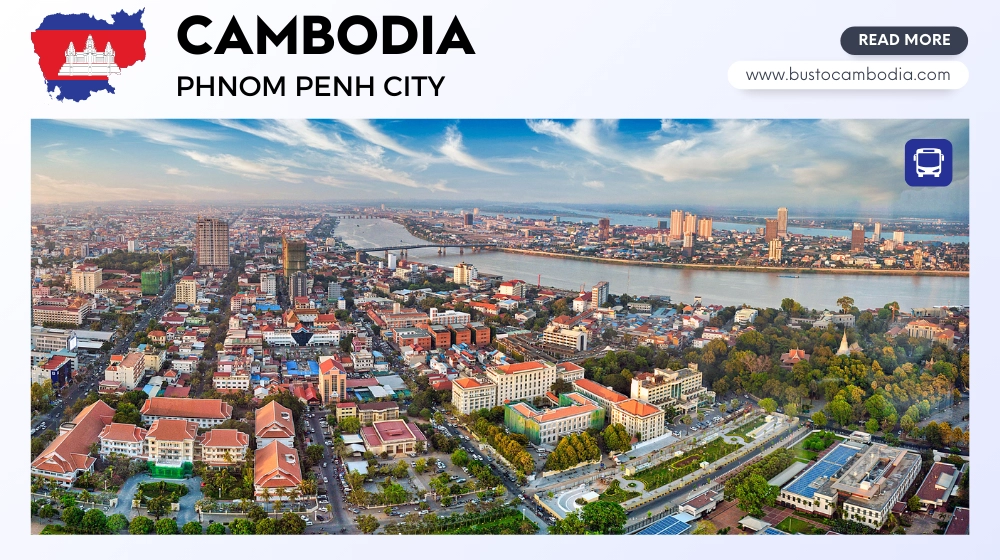 Visit Tuol Sleng prison (Genocide Museum) was the most secret organ of the Khmer Rouge regime. S-21 stands for "Security Office 21." was Angkar's premier security institution, specifically designed for the interrogation and extermination of anti Angkar elements. Continue to visit Choeung Ek museum, between 1975 and 1978 about 17,000 men, women, children and infants detained and tortured at S-21 prison were transported to the extermination camp of Choeung Ek.
We will enjoy a cruise for view sunset on the Mekong and Tonle Sap River (1 hour). Situated at the "Four Arms" where the Mekong meets the Tonle Sap River before splitting into tow branches, Phnom Penh offers the ideal location to discover the mighty Mekong. Board a nicely restored wooden boat for a day cruise, enjoy the unspoiled landscapes along each bank and visit the traditional villages with their old pagodas on the island.
Explore Phnom Penh (Cambodia)
Firstly, visit to the Royal Palace compound build in 1866 by the Predecessors of King Norodom, is the most conspicuous feature and also one of impressive colorful Khmer-style Palaces. Nearside the Royal Palace is Silver Pagoda (The Emerald Buddha temple), display plenty of Buddha Statues that were decorated and made by diamond, emerald, gold and silver.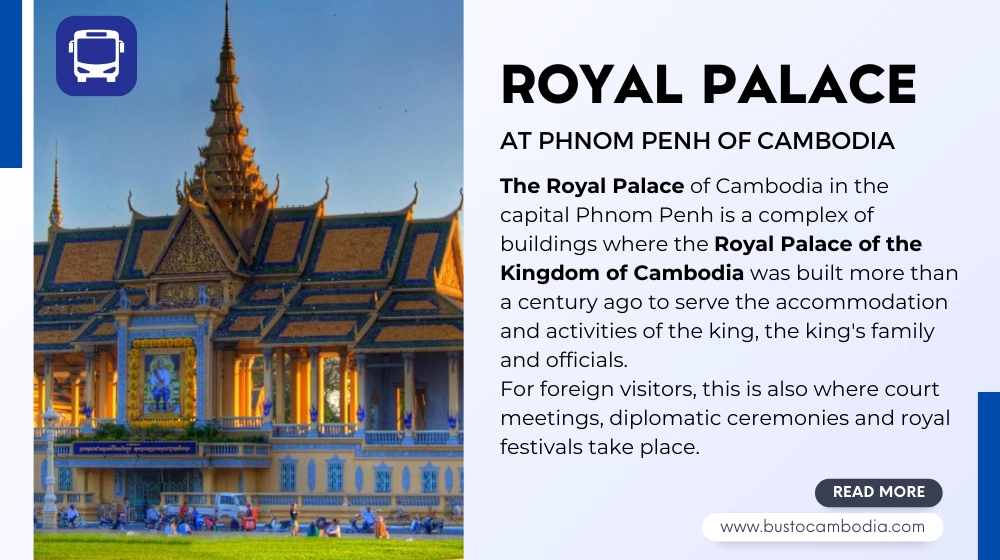 Travelers will proceed to visit Independence Monument which was constructed in 1954 after Cambodian took their country back from French colony, continuing visit to National Museum, the distinctive red building with a beautiful Khmer architecture was build since 1917 and contains more than 5000 art objects made of sandstone, bronze, silver, copper, wood and others.
Visit Wat Phnom Daun Penh – the name of a pagoda, was built by lady Daun Penh in 1372 on a little hill, Legend has it that after a particularly heavy flood, a wealthy Khmer woman named Daun Penh found a tree on the banks of the Mekong with four statues of Buddha hidden inside.
Today Wat Phnom remains the highest artificial hill in Phnom Penh and the center of many forms of leisure activity. Then shopping at Toul Tompong Market (called Russian Market), so-named because of the prevalence of items from the Eastern Bloc in past times, the Russian Market today is a treasure trove for tourists, that you will feel a bustling daily life of local people with Cambodian's special character through local specialties, their houses, their face.
Afternoon free and leisure for your own time around poolside at hotel or shopping.
How to book ticket bus to Phnom Penh
To book a bus ticket to Phnom Penh, you can go to Thai Duong bus station. This is one of the reputable bus ticket booking systems with good quality and very good prices
View more: bus to phnom penh from ho chi minh
You can book tickets online through the website system:
Tongdaive.com
Thaiduonglimousine.com